Learn how to auction a car and you can make more money on your car in less time. Here's the definitive guide for auctioning your car in 2022.
Learning how to auction a car and start selling today
Auctions match a seller with the buyer willing to pay the most money for a car. This allows you to get your car in front of multiple buyers at once instead of shopping it to individual buyers over a longer period of time. To sell your car faster and for more money, you'll need to learn how to auction a car. 
You're not getting a fair-market value if you're selling a car through trade-in, or a set-price listing online. Well, probably not. Auctions create higher demand and value for your car. 
Does this have you wondering, "Should I sell my car at auction?" If you want more money and less hassle, then yes.
How to Auction a Car
Here are the short and sweet steps for how to auction a car: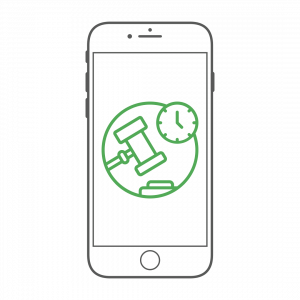 Find a third-party auction provider.

Make sure you have your title or know who holds it.

Confirm your loan (and/or lien) payoff amount.

Bring your car to the auction or create your online auction listing.

Set your reserve price (the lowest amount you'll sell for).

Watch the bids roll in.
Auctions are a tool for dealerships, fleet management groups, and rental companies to keep used cars in stock. 
To enter the auction, you would bring your vehicle to a third-party auction provider who organizes the auction, advertises to dealerships, and handles the sale process. 
Look for an auction provider that only charges if you sell. And if you decide to sell your car at auction, remember that a good auction provider will also handle the paperwork and payoff. 
Wholesale auction providers are often organized regionally, so the best way to find the right fit for you may be to do a Google search for something like, "sell my car at auction near me."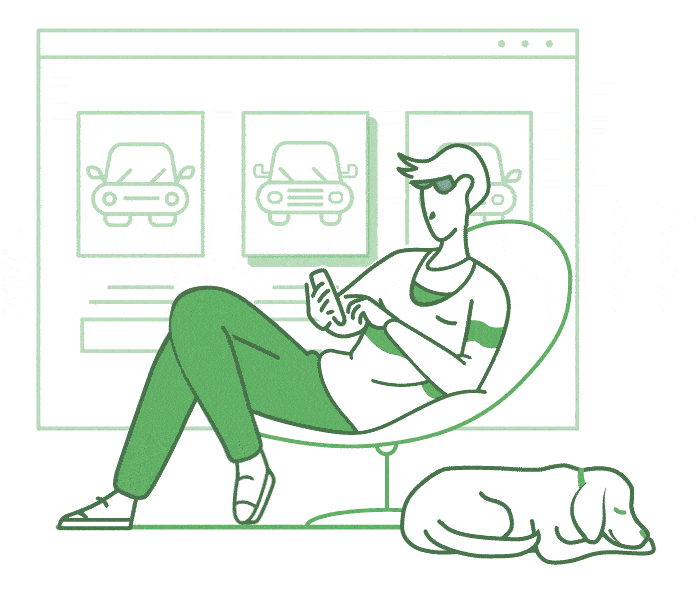 How to Auction My Car Online
Online auctions take the tried-and-true sales method and add convenience for both the buyer and seller. 
Multiple companies offer a way to sell your car online (us included). Companies like Carmax and Carvana are basically online trade-in offers. Those companies make an offer based on their own inventory needs. 
Auction platforms like ours give you the opportunity to participate in a wholesale dealership auction without driving to the auction location and haggling with potential bidders all day. 
At Carmigo, we use a virtual inspection tool to create a listing for your car, list it in a 24-hour auction that includes dozens if not hundreds of bidders, and then arrange for title transfer, loan payoff, and vehicle pickup following the sale. 
The other great thing about our online auction is the ability to set a reserve price which guarantees your car won't sell unless the highest bidder exceeds your minimum price.
How to Auction a Car And Start a Bidding War
Here is the best part about auctions: If you create a good listing, you can actually start a bidding war.
A bidding war is when two or more bidders are still interested in your car toward the end of an auction. They will then place new and higher bids back and forth until the auction closes or one of them realizes they've surpassed their intended budget.
This can be done in a few ways:
By starting your price under what you're willing to sell to attract early bids and create social proof for other buyers who may have been on the fence.
A clean car shows bidders that the car has been taken care of, so give it a quick wash and vacuum. Maybe throw away those Taco Bell Mexican Pizza boxes, too.
Include pictures of premium features like a sunroof or entertainment system.
Check out our complete list of tips to start a bidding war here.
What a Hollywood Bidding Work Can Teach Us About Selling Cars
One of the best auction stories is that of the movie The Poseidon Adventure (1972). Instead of setting a flat price, or negotiating with one network, they made every network duke it out for the first TV showing of the movie.
ABC's executives wanted to beat the other networks so they got a little over-competitive. They ended up paying $3.3 million for 1 airing of The Poseidon Adventure and lost $1 million in the process.
This is the story of how a Hollywood producer used auctions to start a bidding war, and what that has to do with selling your car?
Read More »
Stanford Economist Robert Wilson sums it up nicely:
"People tend to have the impression that auctions are all about competition, but a lot of what we also study is how to design the rules to get an efficient, cooperative outcome."


Auctions trigger a number of natural human responses that can generate fair-market values for the seller. And sometimes those conditions can benefit the seller by driving the price up.  
And we want you to get a fair price for your car without having to drive from one dealership to the other. Or worse, having to talk to strangers on the Internet. 
Should I Auction My Car?
We can't tell you what's best for you and your financial needs, but we've put together a handy list of pros and cons for auctioning your car. 
Pros
Real-Time Results: The most exciting part of an auction is watching the bids come in, each new bid higher than the last. The real-time nature of an auction also means you'll get definitive results in a predetermined amount of time. No more guesswork about when you've found the right buyer.
No Strangers, No Haggling: Selling your car through classifieds or internet ads is a guaranteed way to get calls and texts from the internet's strangest strangers. And whether you're trading in at a dealership or selling to a stranger, you'll likely have to spend a few hours haggling over price. 
Less Paperwork: Because an auction employs a third party to handle the sale (the auctioneer or auction platform), they're also going to do some paperwork.. 
Better/Fairer Price: Because auctions have multiple bidders making offers in real-time, the marketplace will typically provide a higher price and, at the very least, a fair price. 
Cons
Less Hands-On: Because a third party is handling the auction, they'll be setting a lot of the terms of the sale. That doesn't mean you don't have any control (you'll likely set the price and decide when or for how much your car sells). 
Includes a Fee: Auctions charge a fee for their service, but if you find the right one (ahem, Carmigo), you'll only have to pay a flat fee of $350 after the sale. 
To see a complete list of pros and cons for private sales, trade-ins, and auctions, check out our definitive guide to picking the right sale method for you.
To Auction or Not to Auction?
That's the question. But now you know how to auction a car. 
And hopefully, you feel equipped to make the best decision for your car and your finances. 
If not, reach out. We'd be happy to auction your car in our marketplace, and just as happy to help you find a different solution that works best for you.