Can you get paid to buy a Tesla in 2023? Well, kind of. The recent price drops mean up to $13,000 in savings plus up to $7,500 back on your tax return.
Tesla Drops Prices Drastically to Qualify for Tax Credit
Tesla just dropped the Model Y price by $13,000, which means it now qualifies for the $7,500 EV Tax Credit.
Teslas Are Now Cheaper Than Ever Before
Last year people were making money flipping Teslas like they were on HGTV, but this Tesla price drop has made the car more affordable than ever.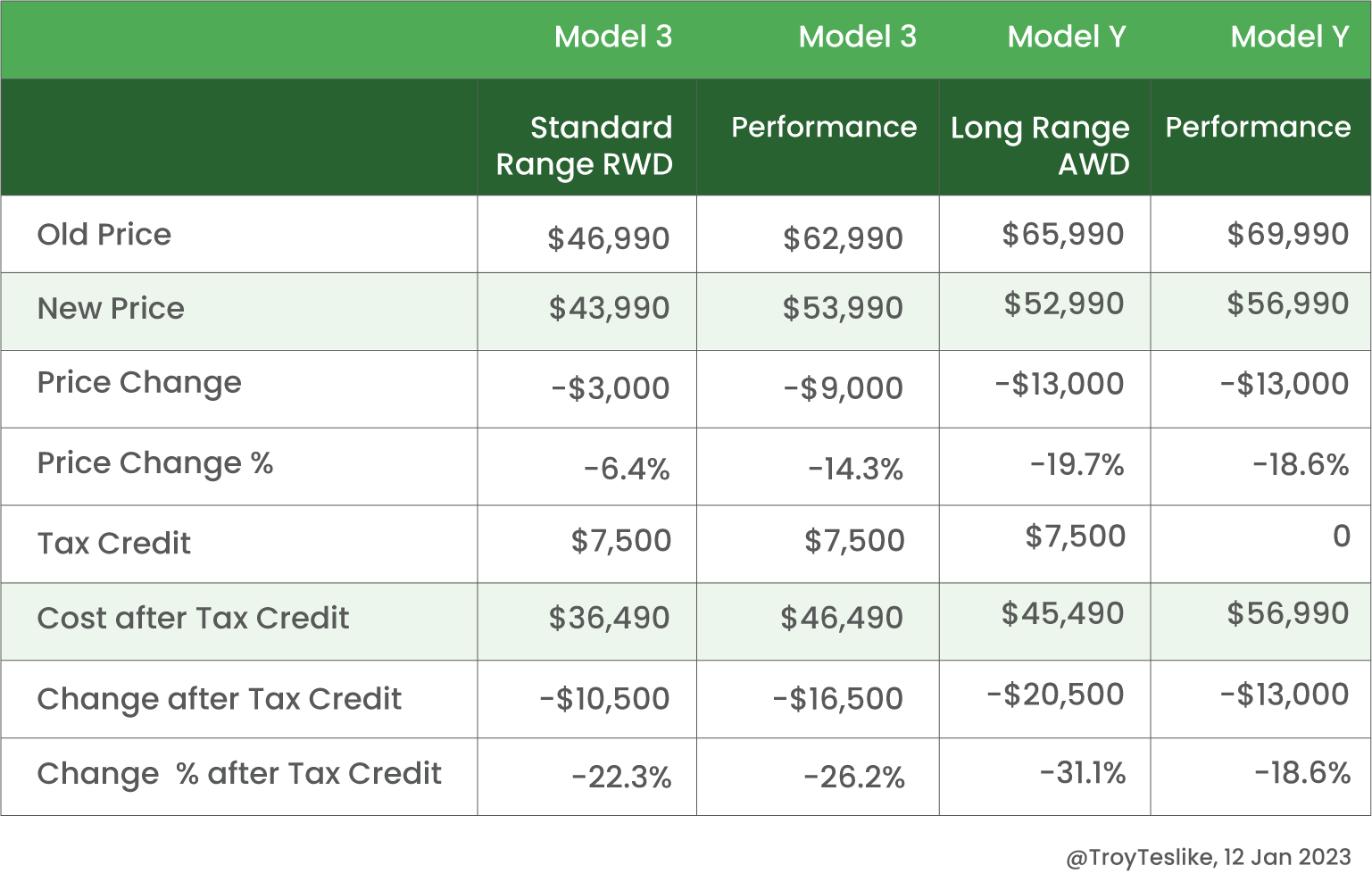 Here's the kicker, the Tesla price drop means three models qualify for up to $7,500 in EV Tax Credits. 
The Tesla Model Y, which cost more than $65,000 just a few weeks ago, now costs $52,990. And the reduced price comes with up to $7,500 in tax credit which translates to more than $20,000 in total savings. 
Current Owners are Bummed about the Tesla Price Drop
Bloomberg talked to several recent buyers about the Tesla price drop, and they were unhappy. 
Imagine paying $65,000 on a Tesla Model Y earlier this month. That means no savings and no tax credit. 
Or, imagine you were trying to sell your lightly used Tesla just to be undercut by the manufacturer. 
How the EV Tax Credit Works
To qualify for the EV tax credit, you must buy a qualifying  EV that costs less than $55,000 (or $80,000 for trucks and vans). You must also make less than $150,000 individually or under $300,000 married filing jointly. 
Not all EVs under $55,000 qualify because of additional manufacturing requirements written into the law, but you can find the details on the IRS's EV Tax Credit webpage.
Tesla Price Drop Response to Losing Market Share
The company gave no specific reason for the Tesla price drop, but most analysts point to two factors. 
Falling Market Share
Tesla's EV market share dropped from 72% to 65%. And while those problems can be attributed to several internal factors (PR problems, vehicle performance issues, price), it's largely the result of more manufacturers making EVs. This year is the first year that most auto manufacturers in the US offer an array of EV options. So the price drop is a move to boost sales. 
To qualify for the EV Tax Credit
They may not have announced this intention, but the Tesla price drop situated three Tesla models just within the price cutoff to qualify for the EV Tax Credit. By qualifying for additional savings, Tesla gives potential buyers one more reason to choose Tesla.