The Manheim Used Car Index increased for two consecutive months for the first time since Winter 2021. It's a miracle if you're selling, because it signifies stabilizing used car prices.
January 2023 Market Watch
Rising Used Car Prices Are Nice for Sellers, But Not Here to Stay
The Manheim Used Car Index has increased for two consecutive months for the first time since Winter 2021.
It's a Christmas Miracle if you're trying to sell a car.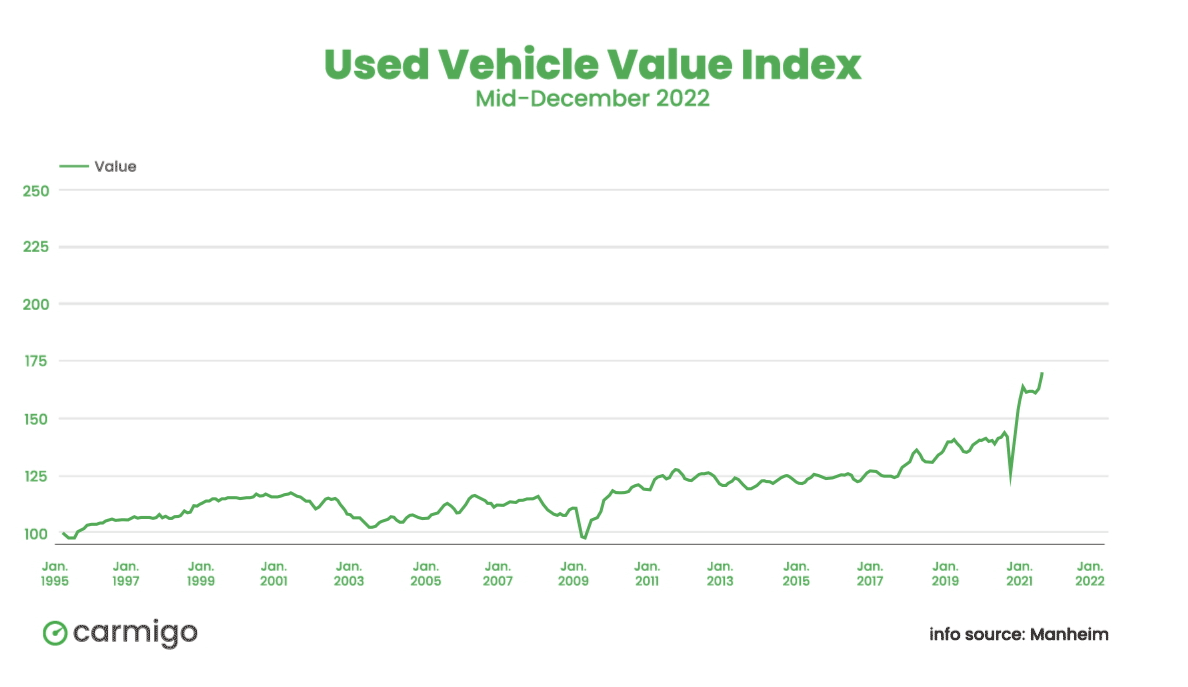 Used car price drops have been hard on sellers this year, Partially because the drops have been so steep and partially because the human brain assigns more emotional weight to losses than to gains. It's literally the reason money doesn't make people happy.
While the two months of stability have been a welcome change, we don't expect used car prices to continue rising. We do, however, expect the rate of decrease to slow down in 2023.
Total used car sales are also down — 13% compared with this time last year. But we've also seen used car list prices coming down some, too, finally dropping below this time last year. This could signal buyers adjusting their expectations to the market conditions, which could ultimately lead to more sales going into the new year.
New Car Prices Helping Used Car Prices
One reason we're seeing used car prices level out is the fact that new car prices haven't as much. Sure, buyers were paying well over list-price for new cars during last year's supply-chain disruptions, but even as the market has normalized, we're seeing fewer and fewer manufacturer discounts and promotions.
So as shoppers see the holiday season pass them by without a discount opportunity on the new car they want, they are turning to the used car market. Even with new car inventory on its way back up, the lack of purchasing incentives will likely drive some buyers to used vehicles.
Used Car Prices are Still Unprecedented
In a December report on auto loans, Cox Automotive Chief Economist Jonathan Smoke reminded readers, "And yes, despite a period in 2020 and 2021 when used vehicles were INCREASING in value, automobiles are depreciated assets. Over time, they always have been and always will be depreciating assets. Negative equity in an auto loan is not some exotic thing – it is a very normal and planned-for occurrence."
This is still unprecedented territory for the used car industry. Never before has the average seller expected to be able to resell a used car at a profit. But after a few months of an outrageous market, many current sellers are feeling left out.
And it's perfectly understandable to be sad about less money. Less money is almost always worse than more money.
You Probably Won't Make More Money Later
The truth is, used car prices are still way higher than they've historically been. That means we can expect the current prices to keep dropping back to normal sooner or later. So if you're thinking about selling, don't wait too long.

Since the market is still much higher than its historic trajectory, we can expect it to continue to drop well into 2023.
So unless you're not planning on selling until the back half of 2023, you may want to sell in January or February.