Used car prices are down compared to previous months, but they're still up compared with historical trends.
Used car market sees rising demand and falling supply.
Is March the Month to Sell Your Car
Pros
Used Car Prices are higher than they were in 2021.

New cars are too expensive for many buyers. 
Cons
Prices are lower than they were this summer.

If you wait too long, manufacturers may discount new car prices.
Used Car Prices Don't Tell the Full Story
I don't think many experts would say the car market is thriving right now, but we have seen an increase in both new and used car sales in the last month or so. And used car prices are down compared to previous months, but they're still up compared with historical trends.
On the Carmigo Marketplace, we've seen initial offers and buyer expectations come closer together than they have been since before the used car bubble burst, which feels like a good omen for used car prices and sales going into March.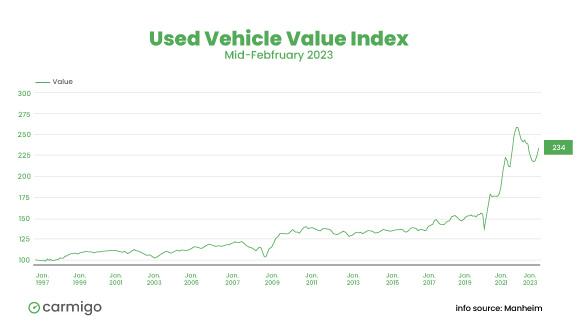 Used Car Index and Sales Are Up
Cox Automotive data show that used vehicle sales are up over last month and last January, putting a period on a months-long decline in the number of used cars sold. 
At the same time, the closing February Manheim Used Car Index is up about 10 points over January. That's not a direct corollary to how much money you can sell a car for, but a very good measure of the current used car market. 
January saw 2.8 million used cars sold, and used car prices went up 4.1% in the first half of February. Any price increase in February is unusual so this increase is rather notable, since February is a historically stable month for used car sales
Supply Is Down
Increased sales mean there are now fewer used cars to go around. This could be a good sign for used car prices in the coming months, especially for more popular models. The number of used cars for sale is about as low as it's been in the last five years. At 2.2 million used cars, the available inventory is similar to April, November 2021 and June 2020. 
At 48 days, the used car days of supply is about as low as it was at any point last year. Days of supply is simply how many days the current level of inventory would last under current demand.
Used Car Prices Were Slightly Down
Used car prices were down slightly this winter. The average used car asking price was about $700 lower at the end of January compared to the end of December.
But, at $26,510, the current average used car price is still much higher than the $19,000 average price in 2016 or the $22,000 average in 2020. 
A lot of consumers are going into the selling process expecting higher prices because the market was so inflated in 2022. But even after months of falling prices, sellers can expect to make more for a used car now than in any other year besides 2022.
New Prices and Supply Still Rising
As used car prices fall, new car prices are still astronomical after setting an all-time high last month. 
And even still, Cox Automotive is projecting a total of 1.1 million new cars sold in February. 
This increase, after a stagnant January, could be because manufacturers are beginning to introduce pricing incentives. But incentives are still minuscule compared with previous years. 
In January, industry-wide new car pricing incentives were 2.8% of average transaction prices (up .1% over December). But in January 2021, before the new car shortage, incentives averaged nearly 9% of average transaction prices.  
The used car market will likely see increased activity (and possibly higher prices) if increasing prices and low incentives for new cars continue.