Used car sales volume jumped by nearly 300,000 used car sales in March over February, which is a good sign for prices going forward.
Prices Should hold Going into Summer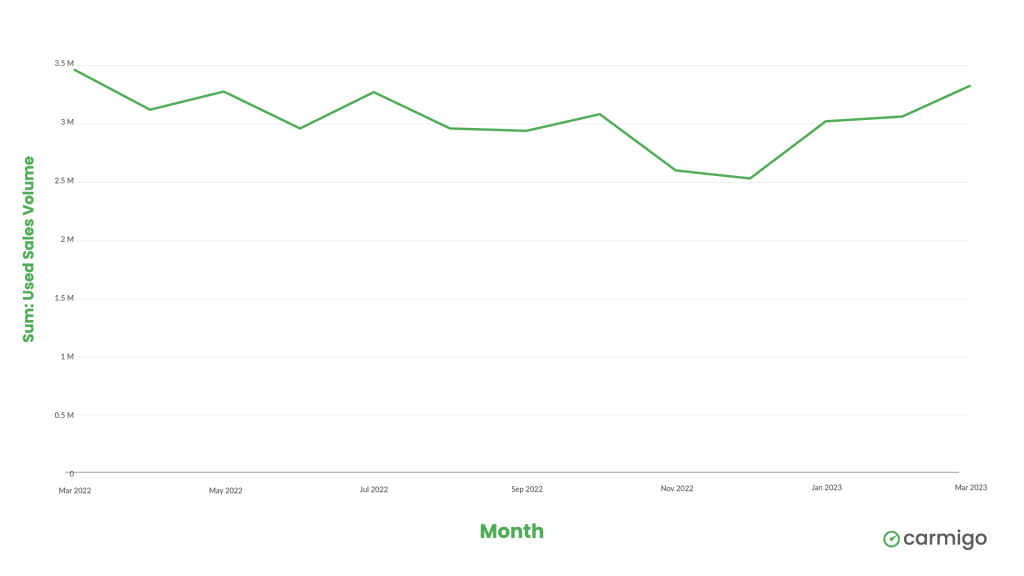 Used car sales volume jumped by nearly 300,000 used car sales in March over February, which is a good sign. 
Following the 2022 bubble used car prices had fallen to nearly pre-pandemic levels, and sales were down too. 
As the spring travel season continues, we should see steady used car sales and used car prices, thanks in large part to drops in used car supply and sustained high new car prices. 
"Prices have been falling, but the tight supply might be providing some price support," said Cox Automotive Senior Economist Charlie Chesbrough. "Used prices may fall further, but it seems unlikely a massive decline will happen given the supply situation."  
Best and Worst Cars to Sell
Green Light Cars
Jeep Wrangler | All Jeeps
Red Light Cars
Maverick 

Tiny Cars

Minivans

Ford Fusion

Tesla
Used Car Sales Are Up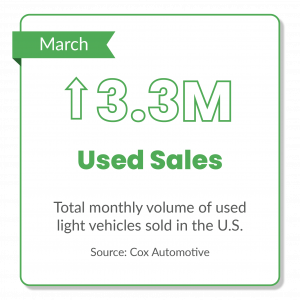 Used car sales volume spent five months below the 3 million sales mark, but so far, sales volume is continuing to climb in 2023. Volume is still under March 2022's 3.4 million sales mark, but continued sales growth is a good sign for the spring. 
Some of this sales growth is seasonal, but some can be attributed to a very expensive new car market that has barely recovered from last year's supply-chain issues.
Used Car Prices Hold, Sorta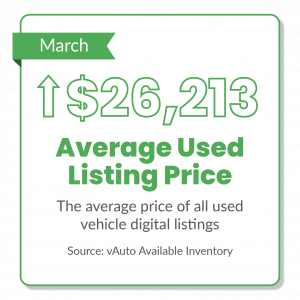 The average used car listing price is up to $26,213, but that doesn't mean people are actually getting more for their used cars right now. That average list price is down only 4% from last year when used car prices, and sales volumes were at record highs. 
Sellers are still asking more for their cars than buyers are willing to pay, but because demand is outpacing supply, there is some used car prices are holding fairly steady.  
Supply & Demand & Used Car Prices
These two balancing factors should keep used car prices stable this spring: 
As the average used car listing price goes down a little more, we should see increased buyer activity. 

And when those used cars are bought up, the number of available used cars should continue to drop. 
Here's what Chesbrough has to say about it:
"The supply of used vehicles at dealerships is at its lowest point in our data, which goes back to 2019. Finding the right product at the right price is more challenging for buyers today."
Segments
Pickup trucks, for a second consecutive month, were the only market segment/body type to gain price compared with mid-April 2022 — but that was only 0.1%.
The two segments with the largest drop in price since last year are luxury and minivans. For minivans, this is a first in a while since the family vehicles held strong through 2022. For luxury vehicles, this is an ongoing trend. 
New Car Sales
New vehicle prices are slowly ticking down after reaching all-time highs this winter. But those dips aren't enough to boost sales, which dropped slightly to just under 1.3 in April. 
At the same time, new car inventory has basically returned to pre-pandemic levels, meaning that long waiting lists are no longer propping up new car prices, and manufacturers are introducing incentive pricing. 
New car prices will likely continue to ease, but new car sales should continue to benefit from the current highs.