All the documents you need to sell your car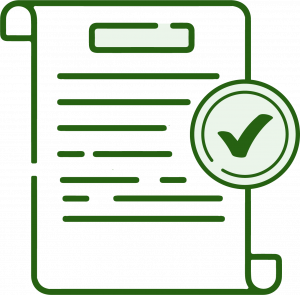 Here are the seven documents you need to sell your car, if you're planning to sell it privately. But we'll take care of most of them for you if you want to sell through us. 
Shameless Sales Pitch: Carmigo handles as much of the hassle as we can, so selling with Carmigo means you only need your title. Or, if you don't own it outright, your proof of registration and loan documents. 
But you didn't come here for a sales pitch, you came here to learn which documents you need to sell your car. So buckle up.
When you sell your car yourself, you need to collect a good bit of paperwork to make sure the whole process is above board. To find out what you need in your state, call your local county courthouse. 
But no matter your state's specific legal requirements, the following seven documents you need to sell your car without a hitch:
Title
This is the big one, the most important of all the other documents you need to sell your car.
You should have possession of your title if you've paid off your car loan. However, your bank may still be in possession of the title, even after the loan has been paid. Be sure to talk to your lender and your local courthouse to make sure your title is in your name. 
Loan Payoff Information
This isn't specifically required in most states when you're selling your car privately. But it's still something you'll want to know. Since the vehicle is usually the collateral for the vehicle loan, your bank will want you to pay the loan down quickly.
Call your bank or look at your online banking dashboard to find out how much you owe if you pay your loan down immediately (some banks may include early-pay-off fees).
Vehicle history report (Carfax)
When you sell through Carmigo (or to a dealership) we have access to vehicle history reports. This is something most buyers will want to know, and pulling the report ahead of listing your car for sale will make your car more attractive. 
Maintenance Records
Any records you've kept of maintenance to your car over the years can help to show potential buyers that the car has been paid for, especially reports of recent tire or part upgrades. 
Warranty Documents
If your car is still under warranty and allows the warranty to be transferred, you've got an additional selling point. Be sure to check all warranty details and pass them along to potential buyers.
As-Is Bill of Sale
This is a legal document signed by the seller and buyer documents each party and the sale price. The document usually contains an as-is clause stating the vehicle is being sold as-is and current but unknown defects will not be covered by the seller. 
Owner's Manual
The next buyer is going to want a copy of the owner's manual. It's not 100% necessary, since most manuals can be accessed online. But when someone buys your car and then has a flat tire in the middle of nowhere, they'll be happy to have an owner's manual in the glove box.