3 Easiest Ways to Sell a Car
The easiest way to sell a car should include minimal effort, time, and can still get you a good deal. At some point, we all have to sell our car, but how do you find the time in the day? Not everyone has the time or skill-set to sell their car on their own. So, What is the easiest way for you to sell your car? Don't worry, we can help you figure it out. 
Use a Classified Site
One of the easiest ways to sell a car is to use a classified site such as Craigslist, Facebook Marketplace, or Autotrader. These sites allow you to create an ad for your car and reach a wide audience of potential buyers. They are also typically free or low cost to use. The process of listing your car on a classified site is relatively straightforward. You will need to create an appealing ad, take quality photos of your car, and respond promptly to inquiries from interested buyers. Once you get offers, you also need to arrange to meet up with them for a test drive, and if all goes well, you need any important paperwork on hand. Given that everything goes according to plan, it's not a bad strategy, but selling privately can be scary. You've got to make sure you keep yourself and your car safe. 
Large audience: Classified websites often have large audiences of potential buyers, which increases your chances of finding a buyer quickly.
Free or Low-Cost Listings: Many classified websites offer free or low-cost listings, which can save you money.
Control over the sales process: When selling on a classified website, you have control over the sales process, including setting the price and negotiating with potential buyers.
Competition: With a large audience of sellers, there can be a lot of competition, making it harder to stand out and attract buyers.
Scammers: Classified websites can attract scammers who may try to steal your personal information or scam you out of your money.
Time-Consuming: Selling your car on a classified website can be a time-consuming process, including taking photos, creating a listing, and responding to inquiries from potential buyers.
Trade It In
Another easy option for selling your car is to trade it in at a dealership. This option is convenient because you can do it all in one place and avoid the hassle of selling the car on your own. The dealership will appraise your car and offer you a trade-in value towards the purchase of a new car. However, keep in mind that the trade-in value may be less than what you could get if you sold the car privately. We recommend researching a little bit about the value of your car or just hopping over to Kelley Blue Book first. Make sure you gather all the paperwork you need, like a title, registration, a driver's license, and more. You could even call ahead and see if there are any additional documents needed, like proof of insurance, tax forms, pay stubs, and such. The dealership will be able to guide you through their process.
Convenience: Trading in a car can be a convenient option, as you can sell your car and purchase a new one in one transaction at the dealership.
Saves Time: Trading in a car can save you time compared to selling it privately, as you don't have to advertise the car, deal with potential buyers, or complete the paperwork on your own.
Potential Tax Savings: In some states, you may be able to save money on sales tax when trading in a car. This is because you only pay sales tax on the difference between the trade-in value and the price of the new car.
Easy Financing: Trading in a car can also make financing your new car easier, as the dealership can apply the trade-in value to the down payment or purchase price of the new car
Lower Trade-In Value: When trading in a car, you may receive a lower value than if you were to sell it privately. Dealerships need to make a profit on the sale, so they may offer you a lower value than you could get elsewhere.
Limited Options: When trading in a car, you are limited to the options available at the dealership. If you're looking for a specific make and model, you may not find it at the dealership where you plan to trade in your car.
Less Control: When trading in a car, you have less control over the sales process. You may not be able to negotiate as much as you could in a private sale, and you may not have as much say in the financing or other aspects of the transaction.
No Comparison Shopping: When trading in a car, you don't have the option to shop around and compare offers from multiple dealerships, as you would when selling the car privately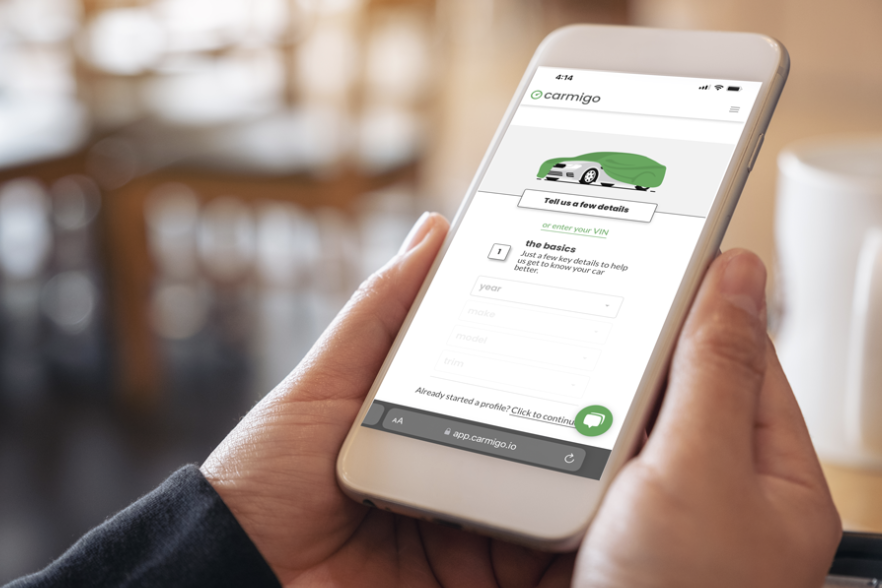 Use Carmigo
Selling your car can be a time-consuming and stressful process, but Carmigo has streamlined the experience to make it as easy and stress-free as possible. In just a few minutes, you can list your car on Carmigo, and they handle all the details from start to finish. Using just a smartphone, you take a few photos for the virtual inspection. Then, Carmigo takes those photos along with additional information you provide and lists your vehicle on their marketplace.
Once your car is listed on Carmigo, potential buyers will start submitting offers. You can set an askingprice, which is the minimum amount you're willing to accept for your car, and then sit back and watch the offers roll in. Finally, they also cover the transportation from your driveway to the buyers lot. One of the biggest advantages of selling on Carmigo is the ease and convenience of the process.
With just a few clicks on your smartphone, you can list your car and start receiving offers. You don't have to deal with the hassle of negotiating with potential buyers or figuring out the paperwork on your own. Set the price you want and watch the offers roll in. Once your car sells for top-dollar, you simply wait for them to pick it up and then get paid. So easy.
Easy Listing Process: The listing process on Carmigo is quick and straightforward. 
Wide Audience: Carmigo has a wide audience of potential buyers, which can increase your chances of selling your car quickly.
No Haggling: Carmigo's pricing is transparent and fair, so there is no need to negotiate with potential buyers.
Fast Payment: Carmigo pays quickly, so you don't have to wait for a check to clear or deal with the hassle of processing payment.
Free Transportation: Carmigo offers free transportation for your car, which means you don't have to worry about transporting it to the buyer.
Flat service fee of $350, but only if your car sells. This amount is taken out of the final amount you receive, so you don't have to pay anything up-front. 

Not ideal for older/classic car or vehicles with a lot of after-market customizations
The easiest and quickest way to sell a car while still getting a great deal. It requires minimal time, effort, paperwork, and social interactions. If you have a used car that dealerships are looking for, Carmigo can get you offers from multiple buyers so you get the best price for the least amount of work. Everything can be done from your phone and Carmigo representatives are available to help you at any point in the process.